Hey guys!
Yoda has come out of hiding and will be arriving to the game soon! I managed to capture some footage of Hermit Yoda in action with some arena gameplay I captured while visiting Capital Games (SWGOH's HQ).
Some quick facts about Hermit Yoda:
Has NO damage dealing attacks
Has numerous healing abilities/healing equalization abilities that also top off your protection
Will really take your Jedi to the next level with his Master's Training bonus which he grants
Will be farmable in the new shipments that is launching alongside Territory Battles
Hope you enjoy the video and stay tuned for a video coming out 12PM CST tomorrow showcasing Territory Battles! It'll be a comprehensive video telling you everything you need to know in preparation for its release!
Enjoy!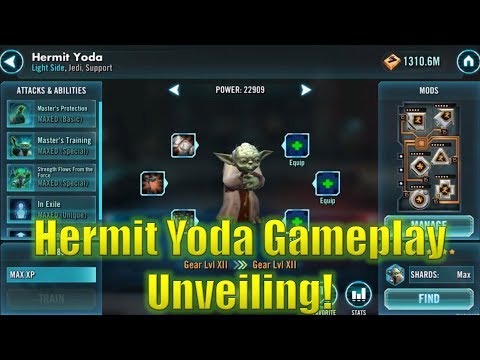 https://www.youtube.com/watch?v=0yt1a_WfK98&lc=z22jx1fzowapg1hueacdp432l5xdqyhx2qv4ukfqj2hw03c010c
EDIT:
Link to the official dev post if you would like to read Hermit Yoda's kit!
https://forums.galaxy-of-heroes.starwars.ea.com/discussion/127289/character-strategy-hermit-yoda/p1?new=1
Post edited by AhnaldT101 on