UNIT NAME:
Zam Wesell
ALIGNMENT:
Dark
CATEGORIES:
Attacker, Bounty Hunter, Scoundrel
Lightning fast Scoundrel attacker that inflicts Evasion Down and detonates bombs
*UPDATED TEXT SHOW IN
GREEN
*
ABILITIES:Basic: DETONATING SHOT
FINAL TEXT: Deal Physical Damage to target enemy. All Thermal Detonators on the target explode, dealing damage immediately. If any Thermal Detonators explode, Zam gains 20% Turn Meter for each living Scoundrel ally.
Special 1: SEE WHAT STICKS
(Cooldown 4)
FINAL TEXT: Place Thermal Detonators on all enemies that explode after 2 turns.
Zam gains Speed Up for 3 turns.
Special 2: ELECTRO-GOGGLES
(Cooldown 3)
FINAL TEXT: Inflict Evasion Down on all enemies for 4 turns and a
Thermal Detonator on all enemies that already had a Thermal Detonator for 2 turns. Zam recovers 10% Protection for each enemy with Thermal Detonator. Zam gains 50% Turn Meter.
This attack can't be Evaded.
Unique 1: SHAPESHIFTER
FINAL TEXT:
At the start of battle, Zam gains:


[*] 20% increase to her Offense for each Scoundrel Attacker ally
[*] 20% increase to Max Protection for each Scoundrel Tank ally
[*] 20% increase to Max Health for each Scoundrel Support and Healer ally.
Leader: HAVING A BLAST
FINAL TEXT: (ZETA)
Bounty Hunter allies gain +25% Potency and recover 4% Health and Protection whenever an enemy is dealt damage by a Thermal Detonator. When a Bounty Hunter ally uses a Special ability, they inflict a Thermal Detonator on the selected target for 2 turns, which can't be Evaded. When Zam Wesell is in the Leader slot, and not the Ally slot, the following Contract is active:

Contract: Inflict 20 bombs on enemies. (Only Bounty Hunter allies can contribute to the Contract.)

Reward: All Bounty Hunter now inflict Thermal Detonators on all enemies whenever they die, which can't be Evaded. All Bounty Hunter allies have their Payouts activated.
Contract: ZAM'S PAYOUT
FINAL TEXT:
Whenever Zam receives Rewards from a Contract, she also gains the following Payout. (Contracts are granted by certain Bounty Hunter Leader Abilities.)

Payout: Whenever an enemy takes damage from a Thermal Detonator, Zam has a 25% chance to dispel all debuffs on herself, she gains Stealth for 1 turn, and she gains 2% Max Protection until the end of the encounter.
GAME CHANGERS
Urzatron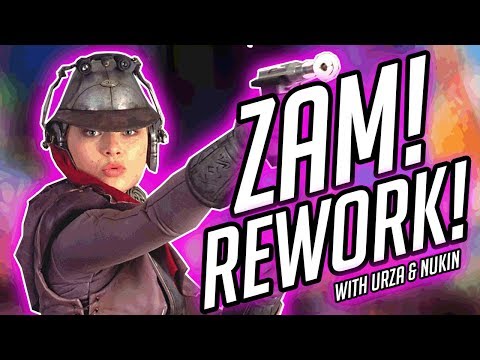 Operation Metaverse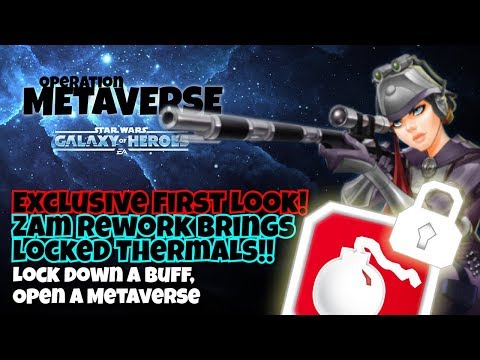 Post edited by GAWS on