Referring to this video: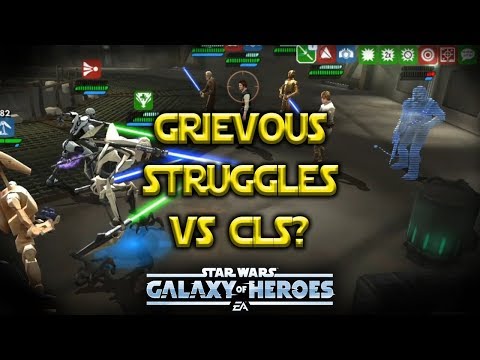 Specifically the battle at 19:33 and the missed finishing blow at 20:13
Unfortunately the CLS squad doesn't use R2 (why??) for the stat boost, the additional crit chance, the potency (expose from 3PO) and the cleanse (buff immunity + TL) upon crits.
Base numbers (assuming fully maxed out chars and no mods taken into consideration):
CLS tenacity: 33% (+100% when he doesn't have Call to Action)
CLS crit chance: 48,42% (+50% from Call to Action, +25% from Guard)
B2 potency: 53%
GG crit avoidance: 50% (0.5% for each stack of Droid Batallion)
1) Zolo starts the battle by attacking GG and getting him low on health (Chewie being a direct counter to the high health pool of GG and therefor very helpful),
admittedly the double crit from Zolo was a bit lucky as each hit has a ~53% chance to crit and there even was expose applied
, feeding B2 with 100% TM in the process
2) B2 using his AoE (no potency boost yet from GG's reworked leader ability as it is his first AoE) --> 80% chance to inflict buff immunity on CLS + 20% to pass the tenacity/potency check (133% tenacity - 53% potency = 80% chance to resist)
If there would've been no buff immunity, CLS would've got a stack of translation upon using his "Call to Action" plus another one upon using his "Use the Force",
so 2x translation giving him +15% crit chance and resulting in a higher crit chance
(48,42% + 50% + 25% + 15% - 50% = 88,42% crit chance).
3) CLS attacking GG with "Use the Force" and missing his crit (48,42% + 50% + 25% - 50% = 73,42% crit chance) --> 26,58% chance to happen
Summary:
- B2 needs to land buff immunity on CLS to avoid CLS getting 2x translation --> 80% + 20% chances
- CLS needs to miss his crit on the finishing blow --> 26,58% chance
0,8 x 0,2 x 0,2658 x 100 = 4,2528% chance
tl;dr: With a propper modded CLS team (inlcuding R2) GG will VERY LIKELY die to the opening of the CLS squad and the battle will be over pretty quickly.
(would be nice if CG would provide some "more realistic" game footage)