Hello Everyone!
I created a video guide on my way to unlock C3PO. It was not easy, though I managed to do it twice (once for my own completion, once for the video) under 10 runs.
Please check my video and write a comment or hit the like button if you like.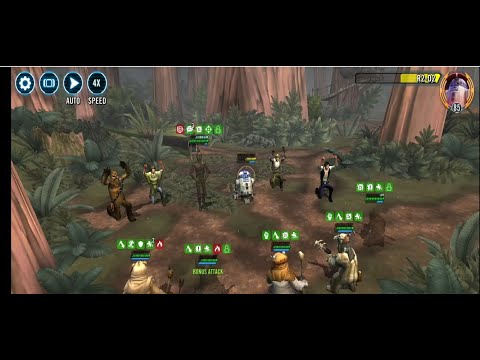 https://youtu.be/LZI2l9DozKw
I used Chief Chirpa (Zeta), Elder, Paploo, Logray, and Wicket. Everyone has Omegas on their abilities.
For the mod sets:
Chirpa
: Speed and Health. Speed - Defense - Health primaries.
Logray
: 2 Potency and Health. Speed - Defense - Potency primaries
Paploo
: 3 Defense. Speed - Prot - Defense
Elder
: Speed, Health. Speed - Health - Health
Wicket
: Crit Chance and Damage - Speed/Offense - Crit Dam - Offense/Prot
You will need all of them 7 stars and lvl 85. In this event, the RNG is god, so if you want to have the minimum gears then you will try the event for some time. However, if you like the ewoks ( I think they are quite fun to play with) then put higher gear on them (gear 12 at least). It is okay too and you will have an easier time at the event too.
My next project is
JTR
and a well-functioning
CLS-Raid Han - Chewi - C3PO - Chewpio team
.
C3PO is a need for the CLS team, is a must for a high-damage HSTR Part 1 JTR team, and is good for a Padme team too. C3PO is the golden god, it is a must to have it.
Thanks for reading/watching.