Hello everyone!
This is Zsoltee's Journey Guide!
Today's content is my heavily undergeared CLS team that managed to go through Sector 1-2-3 with gear level 12 (Chewpio G11! and 5*!) quite easily with a little amount of RNG. Witness the power of the classic CLS team! If you do not like to read then watch my youtube video: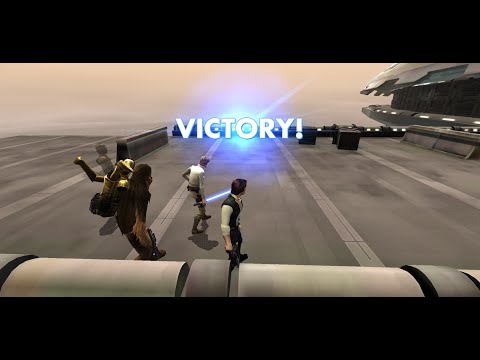 https://youtu.be/JszG6kqVGOk
If you like to read then I will show you some of the battles and the modding of my team.
So the team, abilities, and the mods:
CLS, Chewie, Raid Han, Chewpio, and C3PO.
Classic composition.
One fight, Sector 3, and my opponent was a Bad Batch team. Gear 13, relics, and zetas. Bad batch is a versatile, highly played, and appreciated team. However, CLS utterly wreaks havoc!
the map
Complete Bad Batch team, the beginning of the fight. Han shoots first.
The opposing team is not able to do anything actually. Han shot Hunter, thus they cannot act and do dispel of whatever. When Han shoots, Chewie and Chewpio assist. If C3PO uses an ability, assists again...then CLS and Chewpio use any abilities, they get assists again.
This was an extremely easy victory over a generally versatile and potent team.
For this conquest, I tried to choose those cards which give me extra offense and crit damage. There are some which add turn meter too, but for my CLS, offense and crit damage are the best choice. Try to get these cards, so your first shot with Han, Chewie, and Chewpio destroy at least 1 toon from the opposing team.
My mods
:
CLS
: Offense and Health set, Speed, Offense, Offense primaries.
Han, Chewie
: Crit Chance and Damage. Chewie uses Speed primary while Han has Offense. Offense is better for Han, I think, because he shots first, and instead of speed, I can beef his first shot with more offense.
C3PO
: Speed and Health. Speed and Health/Defense, Health/Defense. Whatever you prefer, make C3PO extremely fast and tough.
Chewpio
: Crit Ch and Dam. Pack as much damage to him as possible. Offense or Crit Dam sets are good, whatever you have, apply the better sets.