General Grievous was a terrible villain he had no motivation, no victories, and no notable interactions with anyone other than Kenobi. He existed only to die and even in the Clone Wars of 7 seasons he fails again and again
But what if I told you that there was a villain in the Prequel trilogy that had Grievous' job but did everything better?
OOM-9 was the head Droid Commander during the invasion of Naboo and head of Nute Gunray's personal guard. Across the length of The Trade Federation's illegal occupation of Naboo, OOM-9 deployed across the planet to suppress the royal guard's insurrections and protect Trade Federation interests. He was the one who disrupted the planetary communications, led the invasion to Theed, discovered the Gungan's underwater city and made them evacuate, beat the Gungans in a full-on fight
securing the only victory the Separatists/Trade Federation got in the whole prequel trilogy
and one of
only 2
ground victories a Dark side faction would get in the series, the other belonging to General Veers in EP5. The SAME Gungans who with a tiny strike force were able to KO Grievous in melee and take him hostage Ewok style
And that is only what we see in the film, in the Legends continuity with Galactic Battlegrounds and James Luceno's Endgame (Author of Tarkin and Darth Plagueis) his exploits on Naboo are shown in more detail, he stopped the Droid control codes from falling into the Royal Guard's hands something which would have ended the invasion after another OOM unit failed, had Nute gunray defend his competency to Darth Maul and later earned Maul's respect as they worked together on the planet in a series of operations, and heavily devastated Otoh Gunga after the Gungans were only barely able to retreat in time
"Darth Maul: "Who is supervising the search for the Gungan cities?"
Nute Gunray: "Commander OOM-Nine."
Darth Maul: "A droid. The predecessor of your inept B-Ones."
Rune Haako: "A superior droid, Lord Maul. Viceroy Gunray's personal guard."
He is the only character in the Prequel trilogy that demonstrates an understanding of tactics beyond stand and shoot, he is the best general in the trilogy and most importantly OOM-9 represents a forgotten idea in the Prequels. The idea of giving the Battle Droids personalities of their own outside of comedy. Which has been mostly forgotten though OOM-9 hasn't been forgotten by Lucasfilm as he has been featured in several recent canon material books such as "Star Wars: On The Front Lines" where his exploits on Naboo were also described in some more detail
""You have performed beyond your parameters."
―Nute Gunray to OOM-9"
Meanwhile Grievous
"Count Dooku :General, the ongoing stalemate in the war has become unacceptable. There is concern you have lost your focus. Lord Sidious demands more dramatic results: more dead Jedi.
General Grievous : You expect victory over Jedi, but all you give me to fight them is battle droids."
OOM-9 gets respect, Grievous is scrap metal
https://starwars.fandom.com/wiki/OOM-9/Legends
https://youtu.be/O_muCUNeUQE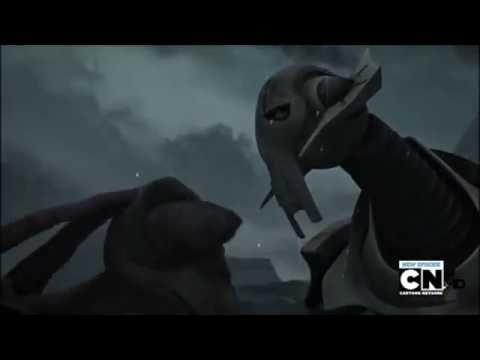 https://youtu.be/ZT0wSyC1ugQ
OOM-9 For Star Wars Galaxy of Heroes!